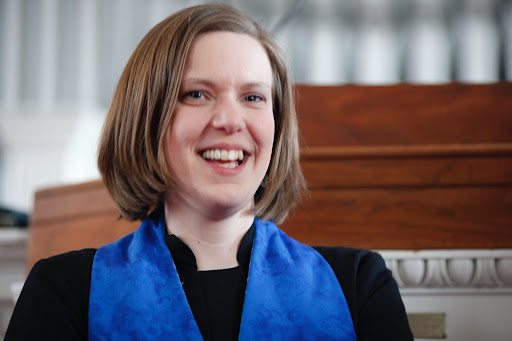 "I serve as the minister of Unitarian Universalist Church in Nashua, NH. Paid Family and Medical Leave would be a huge benefit to my community and congregation. I know many people who are caring for elderly parents and little kids. They have to make hard choices about what they can or can't do for their families, including whether they can take a few days off of work to be with a family member on their deathbed. I know people who have had to go back to work mere days, or even the very next day, after their child is born. That's really challenging; we shouldn't have to make those choices.
This past summer, my one-year-old was diagnosed with covid. My husband and I are lucky enough to have jobs that allow us to work from home, but without that, I don't know what we would do. With two kids at home, one sick, trying to keep them separated – I know that some people in that scenario would have lost their jobs. Every family should have access to paid family and medical leave when they need it.
Another issue that families in my congregation face is affording the cost of child care. Often, families have to make choices not based on quality of care, but affordability of care. There's a ton of folks for whom childcare isn't accessible at all, and they have to drop out of the workforce. I have two kids in childcare part-time, and that costs as much as our mortgage. It's a big portion of our budget.
On the other side of this, we have a preschool at our church. Child care providers are struggling to balance what they charge families, and paying their staff a living wage. It is impossible to balance. You either create a center that families can't afford, or you're not able to pay your staff. Congress acting to cap the cost of childcare would really help. It is a critically needed investment.
The expanded Child Tax Credit is another aspect of the Build Back Better agenda that has been a huge help to the families I work with. A lot of folks are using the Child Tax Credit to subsidize childcare. For some families, it has relieved the burden of having to choose between paying their rent and buying groceries. It is literally pulling families out of poverty."